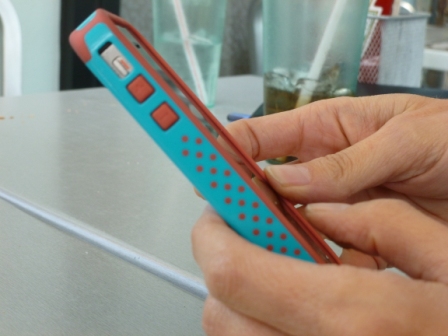 "It seemed like a good idea at the time!"   This is what my 16 year old son told me when I asked how he could possibly think it was okay to drive a few blocks with his friend in the trunk, and this is exactly what comes to my mind when I think of sexting.  Adults, teens and children may sext to flirt, to form relationships, to joke around, to bully, or for revenge.  But what may seem like a good idea is really a bad idea since once the sext leaves the sender, it can easily end up in the wrong hands.
What is Sexting?
Sexting is the sending of sexually suggestive or explicit photos, images, text messages, videos, or e-mails via cell phone or other mobile device.  Sexts need not include naked images to be considered illegal.  For example, fully clothed photos that accentuate genitals and even cartoons can give rise to legal issues when a minor is involved.
Sexting Do's and Don'ts for Children and Teens
Do not sext because of peer pressure, as a joke, to flirt, to demonstrate love, for revenge, to cyber bully or because of impulsive behavior.  Understand that ultimate control over a text or image is permanently lost once it has been sent or posted.
Do understand potential legal, social and academic consequences of sexting:

Seizure of cell phones by schools and by law enforcement
Juvenile detention and jail time
Court imposed community service and counseling
Job loss
Suspension from middle and high schools, loss of academic and athletic opportunities, withdrawal of college acceptance offers
Bullying
Humiliation, embarrassment and reputation damage
 Suicide
Do not take or send sexually suggestive photos of yourself or anyone else.  If you are caught sexting, you could be charged with the production, distribution and/or possession of child pornography – all federal crimes potentially leading to juvenile detention and/or placement on a state's sex offender registry.
Do understand that inappropriate photos may show up down the line in searches by friends, significant others, college admissions officers and employers.  They can be passed around for many years and may be found by online sexual predators.
Do understand that sexting of inappropriate images or videos extend beyond cell phones to any mobile device or computer.
Do understand which images are considered illegal to send or receive:

Sexually explicit images of minors that could be nude or semi-nude photos, videos, cartoons, and even paintings or sculptures.  This includes images where the viewer can observe genitals or pubic area.
Sexually explicit images of minors that are digitally created including a photograph that has been altered by computer software.  The person does not have to exist.
Sexually suggestive photos of clothed minors depicting sexual behavior or with attention being drawn to genitals.
Sexually suggestive photos of minors engaging in graphic bestiality or sadistic or masochistic abuse.
Do understand that inappropriate images sent via cell phone text or emails can be easily and quickly distributed and can remain available online permanently.
Always be alert and think about what you are doing when using digital media.  Sexually explicit photos can wreak havoc with reputations and can cause long-lasting emotional damage regardless of innocent intentions.
Do not create sexually inappropriate images.  You can be found guilty of production of pornography.  (This includes images created by cell phone or other mobile device, camera, computer, or by a computer software program.)
Do not forward sexually inappropriate pictures and texts if you receive them.  You can be found guilty of dissemination of pornography.

If necessary, talk to a trusted adult as soon as possible.
If a sext comes from a friend, the friend needs to be advised that sexting is illegal.  It may be helpful for an adult to talk to the parent of this friend to prevent both of you from getting into serious legal or emotional trouble.
Do consider if it is necessary to report the receipt of an inappropriate sext.  To report inappropriate sexts, go to the Cyber Tip Hotline Website  or call 1-800-843-5678.
Do talk to a responsible adult for guidance if you find yourself in any questionable situation.  Responsible adults include a parent or guardian, a friend's parent, a school counselor, a school principal, or someone at a local police station.
If you have additional questions and need further assistance regarding a cyber- situation, please search the Netsmartz411.com website .  You can  contact them via phone at 1-888-Nets411 (1-888-638-7411).
The Law as it Pertains to Sexting:
Laws vary from state to state and each jurisdiction enforces the law differently.   In California, sexting is an expellable offense but this may not be the case elsewhere.
Under federal law, any image of a minor engaged in sexually explicit conduct is considered child pornography.  An image is considered illegal if it depicts a minor engaging in sexually explicit conduct regardless of whether the minor is clothed or unclothed, real or photo-shopped, photo, cartoon, painting or sculpture.  The age of each involved party has a bearing on the ultimate legal consequence.
Click on this link for detailed laws pertaining to sexting as incorporated in the Laws regarding Sexual Exploitation of Children.
Some sexting incidents from the news:
On February 14th, 2012, at least four cell phones were seized at Chapparel High after a tip to the Sheriff's Office regarding lewd photos and text messages.  If deputies find evidence of sexting, the students involved could be charged with sexual exploitation of a child.  If convicted of the class 6 felony, penalties range from fines of $1,000 to $100,000, all the way up to two years in jail. A student that was interviewed said many students don't realize that these potentially humiliating pictures can end up anywhere.
In the news stories above, sexters didn't think their actions through and were surprised by the extensive spread of their sexts.  It is critical for adults, teens and children alike to always be aware of the ease in which digital media can be rapidly distributed across state and international boundaries to willing and unwilling recipients of all ages.  Like my son's "friend in trunk" incident, no harm may come from it, but if sexting goes wrong, the unforeseen consequences can be devastating and even deadly.
Until next time, …. Stay Cyber Safe!
https://what-is-privacy.com/wp-content/uploads/2012/02/P1000780.jpg
336
448
Hayley Kaplan
https://what-is-privacy.com/wp-content/uploads/2017/06/logonew.png
Hayley Kaplan
2012-02-22 20:36:44
2015-09-10 16:22:02
What Children and Teens Should Know About Sexting