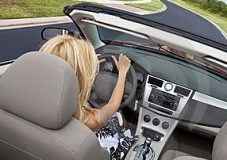 As a teenager, I drove a silver, convertible Camaro. I loved the wind in my hair as I drove during the day, and the night air was exhilarating when I cruised with the top down, the heater blasting and with no sense of danger or vulnerability at all. In fact, I felt invincible until the moment I became a parent and my invincibility was replaced by sensibility. Today, I'd feel unsafe driving alone in a car with the roof down at night. If I had a daughter, I would not want her to do it either. But as I vividly recall my rebellious teenage years, I know I would have done this without my parent's permission anyway. It is challenging, yet crucial, to communicate effectively with our children so that they heed important information.
In a sexting study of teens age 13-19 by the National Campaign to Prevent Teen and Unplanned Pregnancy:
71% of teen girls have sent or posted such content to a boyfriend or girlfriend
51% of teen girls say they do it because of pressure from a guy
66% of teen girls and 60 percent of teen boys do it to be "fun or flirtatious"
44% of teen girls and boys say they did it in response to content they received
44% of teen girls say it is common for these images to be shared with people not intended to see it
38% say that "exchanging sexually suggestive content makes dating or hooking up with others more likely"
29% of teens say that exchanging explicit content makes them feel "expected" to date or hook up.
Boys aren't excluded. According to a November 2011 Pew Internet and American Life Project, 16% of all teens and 18% of cell users say they have received a sexually suggestive nude or nearly nude photo or video of someone else they know.
What parents should know regarding sexting and their children:
Understand what sexting is, why it happens and what the consequences can be. (See last week's blog, for these details.)
Encourage non-confrontational, two way conversations with your children to effectively convey the dangers and to keep them comfortable about seeking your help should they find themselves in a questionable situation.
In a recent conversation with my 21 year old son, I was surprised to learn that he thought sexting was only dangerous if he sent out naked pictures of himself. He did not realize that he could get in trouble for receiving a naked photo of a minor girl.
Set rules for cell phone and internet use at an early age and return to the discussion periodically. Give examples of information and images that are appropriate to share and those which are not.
Remind children not to take or send sexually suggestive photos of themselves or anyone else. Those caught sexting may be charged with the production, distribution and/or possession of child pornography – all federal crimes potentially leading to juvenile detention and/or placement on a state's sex offender registry.
Be very careful how you respond to your child if they create and send a sext or if they receive a sext. Give your child guidance instead of punishment. The articles below are examples of how inappropriate adult handling of sexting resulted in unnecessary suicides:
Tell children and teens that if they receive an inappropriate photo they should not share or forward it and they should talk to a trusted adult as soon as possible.
If the sext came from a friend, the friend needs to be advised that sexting is illegal and must stop.
Talking to the parent of the sender may be appropriate to prevent all involved parties from getting into serious legal and emotional trouble.
Do not have your child forward the inappropriate sext to you or anyone else as this could have legal consequences for any recipient. If your child forwards you a naked photo of a minor, you can be found guilty of possession of child pornography etc.
Many experts suggest reporting inappropriate photos received by a child to law enforcement or to the Cyber Tip Hotline. I believe it is a good idea to talk to children and their parents first as you could inadvertently incriminate innocent people and worsen a situation in the quest to protect your own child. If criminal intent or malice is involved, it is advisable to contact the police or a lawyer however it is important to remember that child pornography charges can be filed against anyone involved, including your child.
Overall, I consider myself a pretty good parent, but, I reluctantly admit that I've found myself doing things I've told my kids not to do. I'll even admit that I sexted my husband before I began my research on sexting. I don't know about you, but I've received many forwarded emails which I should not have received because the initial sender wanted them to only go to the person they addressed the email to. The same lapse in privacy happens with sexts because technology makes it way too easy to do the wrong thing. When it comes to sexting, we'd all do well if we followed the advice of what's best for our kids. Don't sext!
https://what-is-privacy.com/wp-content/uploads/2012/03/Sexting.jpg
600
800
Hayley Kaplan
https://what-is-privacy.com/wp-content/uploads/2017/06/logonew.png
Hayley Kaplan
2012-03-04 17:24:48
2018-02-13 23:14:19
What Parents Must Know about Sexting