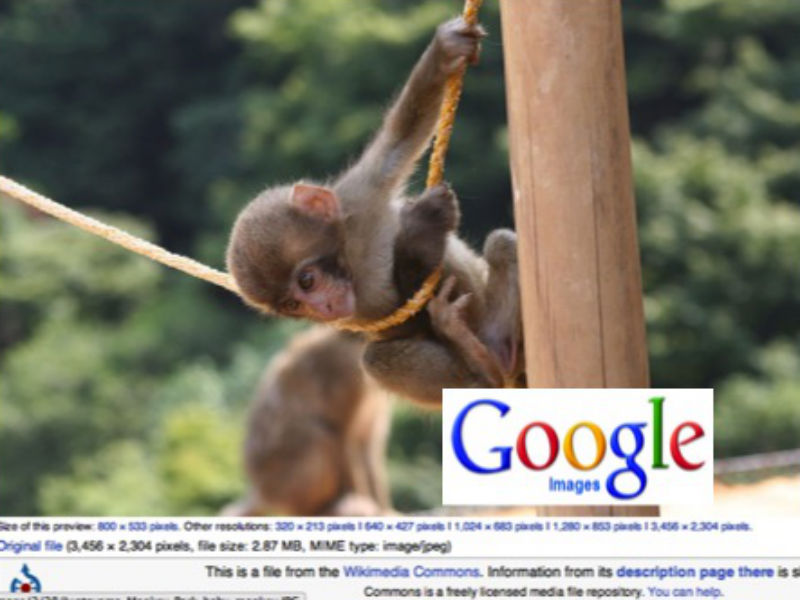 There are many reasons to search for images on the Internet and multiple sites to find images where image creators and providers allow reuse of their images. Using images without verifying associated licenses is risky. This is a step-by-step tutorial for searching Google Images via a license type that specifies usage rights for a given image.  This method is quick and easy, but not foolproof so please be sure to review the extensive list of additional options available to you at the end of this article.
1.  Go to Google in your browser and click on "Images" in the toolbar.
2.  Enter the name of the image or graphic you want to search for.
3.  Click the search icon to initiate your search.
4.  After you click the search icon, images that match your request will pop up.  Click on the wheel-like icon on the upper right hand side of the screen to get a drop-down menu.
5.  Click on the "Advanced Search" option of the drop-down menu. (As long as you're in this menu, you may as well check out the other handy options, but for purposes of this tutorial, scroll down to the bottom of this menu until you see "usage rights.")
6.  After scrolling down to "usage rights" click on the small down-arrow on the right side of the screen to get a drop-down menu.
7.  Select the option that makes sense for your usage needs.  For example, if you want to use the image for your website or blog post and are not selling the image, use the least restrictive option of "free to use or share."  If you want to alter the image or sell it, select the appropriate option for that. Keep in mind that the selection of images is likely to be reduced as you go down the option list. (The volume of images that are "free to use, share or modify, even commercially" will have the least amount of images to choose from so don't select this option unless you plan to use the modified image commercially.)
8.  Once you select the option that meets your needs, clicking on it will bring it into the "usage rights" box.
9.  Click on "Advanced Search" to conduct your search.
10. Notice your "usage right" option will appear in the task bar of the images that come up. Mine appears as "labeled for reuse with modification" after selecting "free to use share or modify."
11. Click on the image you wish to use and keep clicking until you get to a screen that clearly indicates the origin of the image and also the rights associated with it. If you do not locate licensing information, please do not assume the image is safe to use. There are many image choices available so when in doubt, move on to another option to be safe. (See usage information on one of the monkey photos below)
12. Scrolling below the photo, see the licensing details. For this monkey photo, users are free to share and adapt the image as long as attribution is given to the original creator. Click on licensing links for more detailed explanations.
The Google Advanced Search method is quick and easy but as previously mentioned, you may occasionally select an image with no clear licensing information available once you click through that image. When this happens, I highly recommend moving on to another image because pleading ignorance or blaming it on the Google search is not enough to avoid potential penalties of using someone else's image without permission.
At the start of this article, I mentioned additional resources for finding images. Please click on How to Legally Use Images and Graphics Created by Others and 24 Sites for Royalty Images (Free and Paid) to review suggestions and to obtain links to web addresses that should safely meet the majority of your imaging needs.
Until next time, … Stay Cyber Safe!
https://what-is-privacy.com/wp-content/uploads/2013/09/Advanced-Google-Image-Search.jpg
600
800
Hayley Kaplan
https://what-is-privacy.com/wp-content/uploads/2017/06/logonew.png
Hayley Kaplan
2013-09-30 12:48:25
2014-02-15 18:58:47
How to Legally Use Images from a Google Search