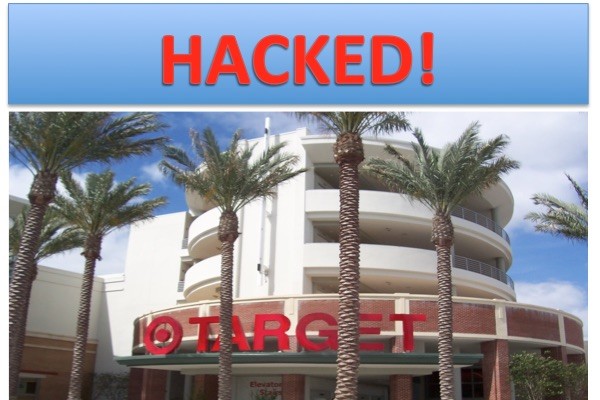 I found myself shopping at Target four times between Black Friday and December 15th when I wanted to buy diapers, spillproof cups, clothes and toys for my adorable 2 year nephew who was staying with me for 10 days. Then I learned that cyber criminals had hacked into Target's computer systems during that exact same time period. Target reported that as many as 40 million card accounts may have been affected. Now what?
Most importantly, I have been reviewing all transactions on my credit card daily. Here are a handful of simple but important steps we can take to protect ourselves:
1. Do not use debit cards for purchases.
Debit cards are like using cash and you have little to no recourse if your account is compromised or if someone else uses your card.
2. Keep an eye on your credit card activity yourself or with help.
I check my activity online frequently.
If you are not comfortable checking frequently online yourself, you can call the phone number on the back of your cards to review recent charges with Customer Service.
Save credit card slips from every credit card purchase and check them off the statement each month so you can easily identify fraudulent charges.
3. Set email or text alerts on your credit card and bank accounts so you are notified immediately of any unusual activity.
I do this myself online but if you don't know how to do it, you can call Customer Service and have them talk you through it or they can refer you to their online department for assistance.
You can set alerts so you are instantly notified of international charges, charges that exceed a certain amount, charges at gas stations and more. (below: see some of the alert choices available to me regarding my credit card and bank accounts)
Below is a list of some of the alerts I can select on my Bank Account:
Contact your bank or card provider immediately if you notice any unexpected activity so they can close down your account promptly to minimize impact.
Online Shopping and Phishing Emails:
Online Target shoppers do not appear to be affected by the recent breach, however, over 24 million Zappos customers have been affected by the recent Zappos breach. Zappos has suggested that customers change the password on their online accounts immediately and this is good advice for all your password protected accounts.
I do most of my shopping online. As a result, the rampant phishing emails that appear to come from legitimate and large companies such as UPS, FedEx, Apple and Amazon are relevant and can easily be mistaken for authentic emails if not carefully analyzed before taking any action. To avoid infecting your computer or mobile device, avoid clicking on links in emails and texts and go directly to the website/source if you need information about your orders and the shipping of your merchandise.
I placed several orders on Amazon in the past couple of weeks and I received the email below several times. It was obvious it was a phishing email to me however, what surprised me was the link appears to be from Amazon when I hover over it. I haven't clicked on the link to test it out but I forwarded it to Amazon who confirmed it as a malicious email.
The tips in this particular post barely skim the surface but they are good strong basics that should become part of your consistent and routine behavior.
Wishing you a wonderful Holiday Season and a very Happy and Healthy New Year!
Until next time, … stay Cyber Safe!
https://what-is-privacy.com/wp-content/uploads/2013/12/target-hacked-1.jpg
400
600
Hayley Kaplan
https://what-is-privacy.com/wp-content/uploads/2017/06/logonew.png
Hayley Kaplan
2013-12-20 13:51:08
2017-05-10 15:58:11
How to Protect Yourself amidst Recent Data and Credit or Debit Card Breaches