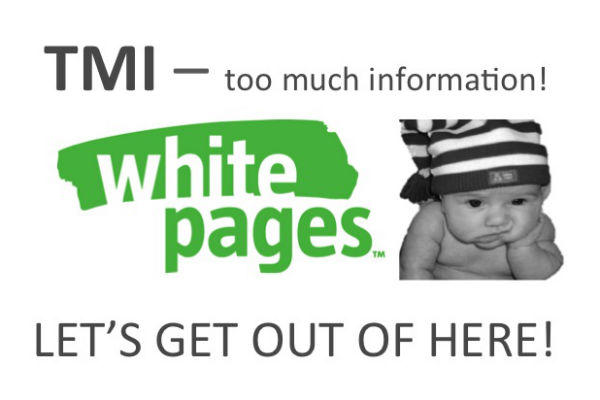 The mass sale of personal information and data has become a highly profitable business thus it comes as no surprise that directory sites prefer that we don't opt out or remove our personal information. To that end, opting out is not always as simple as it should be. Whitepages falls into the "not as simple as it should be" category, perhaps because they want to discourage opting out or perhaps because they are still working out kinks on their redesigned and updated site. Nonetheless, their major changes render my past whitepages tutorial useless and so this article replaces "How to Remove Your Private Information from Online Whitepages" which published in November 2013.
WhitePages allows you to pick and choose what information you want to hide or keep visible. I wasn't pleased with the search results after I tried to hide only some of my information and so my preference is to hide as much information as possible. You can experiment and make the decision that works best for you but the tutorial is geared toward a "hide everything" approach.
PEP TALK: Multiple screenshots and apparent article length make this tutorial look intimidating. The process is not complicated so please take action immediately and don't be discouraged!
10/31/2017 WHITEPAGES HAS CHANGED THE OPT OUT PROCESS AGAIN. THIS TUTORIAL IS NO LONGER CORRECT. See updated version below.
Click here to go to WhitePages. (It will open in another window so you can toggle back and forth to this article.)
Enter your name and state and begin your search by clicking on the green magnifying glass. (If you have a common name, you should enter your city as well)

At this point, one of 3 things will happen:

You'll recognize one or more records belonging to you. You will need to deal with each record separately so follow the same steps for each, one at a time.
You do not recognize any results. Vary the search information (former address, maiden names etc) until you locate data belonging to you. Odds are, you'll find something. If yes, follow all the steps for each result you locate that belongs to you. If you still find nothing, keep reading.
You do not locate any information on yourself. Perhaps you previously opted out or maybe there just isn't any data on you. Regardless of the reason, if you can't find it here, neither will anyone else. Be happy and your work is done here today.
NOTE: This tutorial does not apply to any ads or sponsored results you locate.
My personal search in 2013 returned multiple profiles belonging to me. As mentioned earlier, I initially allowed some information to remain but then chose to "hide" everything after I saw too many personal details show up in subsequent searches. Below is what came up today. I'm happy to tell you I am still not in any of the results so I will use other names for this tutorial.
The blue ads above are from Spokeo. Your search may yield ads from multiple sites that want you to access and then buy their data. I point this out to show the importance of removing your information from multiple popular sites. (You can do it yourself or contact me for a quote to do it for you)
Once you locate your information, click on "View Full Profile" to explore. Stay calm as you review all related links. (Current home or work address, maps, former addresses, neighbors, email, people you may know, phone numbers, public records etc.) The screenshot below shows some of the data that appeared for the one of the profiles that showed up with my name.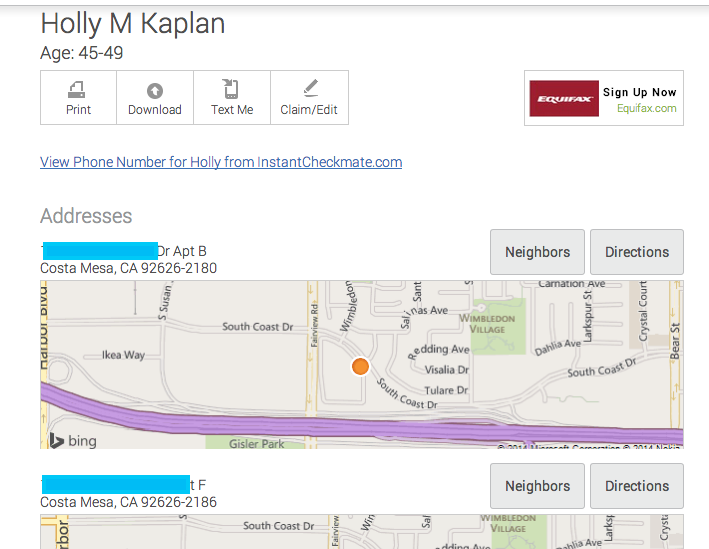 Once you've identified your profile, claim it so you can edit your settings.
At this point, I strongly recommend that you click on Create a WhitePages Account instead of logging in via Facebook. After all, the point of opting out is to increase privacy, not reduce it.
Once you have created your account, click on the link that says, "Verify my email" in the email that you receive.
Now you are ready to begin the edit process.

You must verify the phone number associated with your profile before you can make any changes. They do this to prevent you from editing listings that do not belong to you. Select the phone number that is appearing and then select the means for verification – text message or phone call. I recommend phone call. (No reason to provide a cell phone to add to the data they gather on you, right?)

NOTE: If you don't have a number listed, you will need to provide one for the verification process. I don't like that however, you will be able to hide it afterwards. You can use any number that you can answer immediately for the verification process)

When you click on the phone number, your telephone will ring and you will be prompted to enter the number "1" to verify the phone number. Do so. (If you select the text option and provide your cell phone, you will get a text instead. Follow those directions)
Now you are ready to hide your information in whitepages. DO NOT DELETE YOUR PHONE NUMBER as that will prevent you from hiding or editing anything else. The screen below will show:

Click on "Edit" (Your Profile) and select the option to hide your phone number. Then click the button that says, "Update Numbers."

Click on "Edit" (Manage Your Privacy) and select the option to hide everything else.
You will see a notification of success. Logout so you can search for your information to verify your information has been hidden. (I suggest searching from an "Incognito" window to be sure that your old data is not being recalled in "cache" from your prior results.)
HEAD'S UP: I followed the steps above to remove/hide a friend's data (with her her permission, of course) and found it necessary to repeat the process a few times until I was satisfied with the results. (Potential glitch on their new site). But the good news is that I eventually deleted everything I could (primarily former addresses) and then hid the rest. I was forced to reluctantly leave one phone number and one address hidden instead of deleting everything but nothing showed up in subsequent searches so the information was truly hidden.
If you have difficulties or questions, feel free to email me or to leave details or questions in a comment. I will follow up as soon as possible. Sharing your experience and concerns in a comment will also allow me to make updates to this article which may in turn help others. Like raising children, maintaining our privacy takes a village. I am hopeful that we can lead safer and more private lives by helping each other along the way.
Until next time, … Stay Cyber Safe!
10/31/2017 WHITEPAGES HAS CHANGED THE OPT OUT PROCESS AGAIN. THIS TUTORIAL IS NO LONGER CORRECT. See updated version below.
https://what-is-privacy.com/wp-content/uploads/2014/10/whitepages-opt-out.jpg
400
600
Hayley Kaplan
https://what-is-privacy.com/wp-content/uploads/2017/06/logonew.png
Hayley Kaplan
2014-10-21 14:28:58
2018-01-10 08:22:26
Whitepages Opt Out - updated tutorial