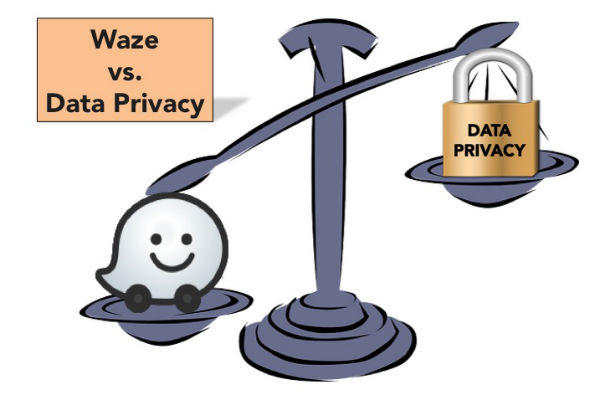 On a rainy day with multiple accidents and horrible traffic, my friend activated Waze on her iPhone and we navigated flawlessly to the end of our 29 mile journey without traffic and in great time. I was very impressed with Waze, a free, community-based traffic & navigation app that worked beautifully for us that day. With an upcoming long drive during rush hour traffic, I went to download Waze on my Android phone. Ouch! I was quickly disappointed when I realized I couldn't risk downloading the helpful free app onto my device.
Take a look at the screenshot I captured below: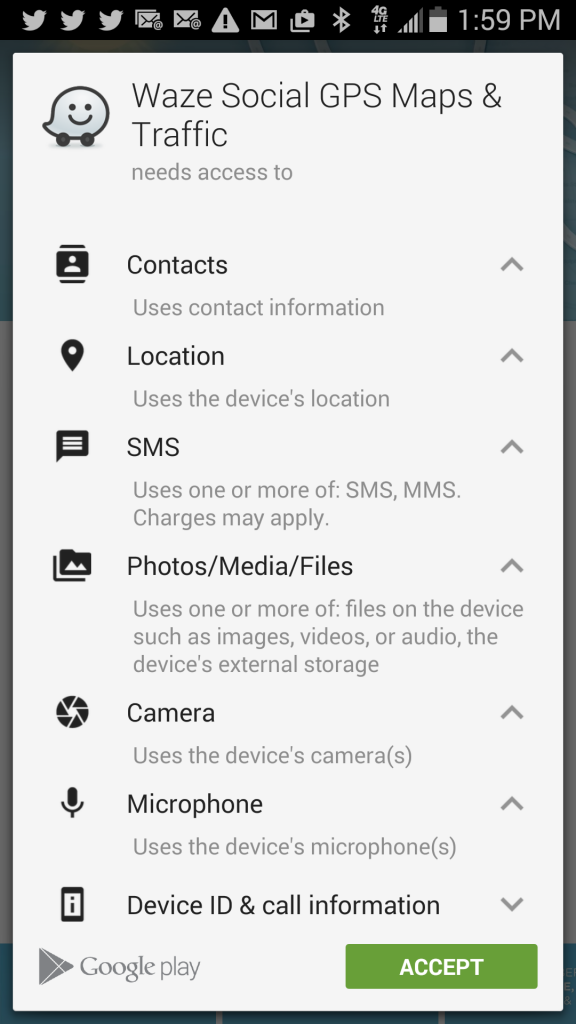 I was shocked to discover all the invasive access I'd need to give Waze in order to avoid traffic! ACCEPT? No!!! I can accept Waze needing my device's location to guide me through traffic, but I cannot accept the other permissions listed above. Give them access to my contacts, photos, audio, video, camera or microphone? Nope, I don't think so! Give them the ability to use my SMS or MMS? Absolutely not! Give them access to my ID and call information? No way!
So why does Waze gather all this information and why would one be concerned about it? As already mentioned, it makes sense to require location data to navigate users around bad traffic. But that location data can and is used for more than that. Waze is a free app and so revenue is obtained from advertising. That means you can expect to receive ads via the app, and also via email when you provide it as part of your sign up. Your location data allows you to receive location specific advertisements based on the routes being traveled. Additionally, the Waze privacy policy says it collects data "to comply with any applicable law and assist law enforcement agencies under any applicable law." That means their data can be used to assess the speed at which you were traveling hence helping or hindering your argument as to whether or not you were speeding, for example.
Now, I don't know specifically what Waze does with all the other personal non-location data and features it requires access to (photos, video, microphone etc.) and I also don't know if they technically access items such as the photos and videos on the phones of the app users. But, even if they don't access these things now, their privacy policy gives them the right to access these items in the future. Furthermore, Waze was purchased by Google in 2014 and that makes them an even more powerful force to reckon with. One thing I can tell you for certain is that I'm not taking any chances or putting my trust in Waze or any other free app with the potential for such immense privacy invasion.
Please interpret this short post as a reminder to be vigilant about every single app you install or download onto any of your devices. (Click on hyperlink for an additional article) Waze is not alone in the liberties it takes with user information and data.
So, it looks like I'll be relying on good old-fashioned common sense and radio traffic reports when I embark on my upcoming long drive in peak traffic. That's okay – I'll be listening to good music and enjoying the time away from my computer.
Until next time,… Stay Cyber Safe!
https://what-is-privacy.com/wp-content/uploads/2015/01/Waze-Vs-Privacy-Image.jpg
400
600
Hayley Kaplan
https://what-is-privacy.com/wp-content/uploads/2017/06/logonew.png
Hayley Kaplan
2015-01-21 22:32:28
2015-09-19 14:48:49
"Waze" free navigation app comes at high cost