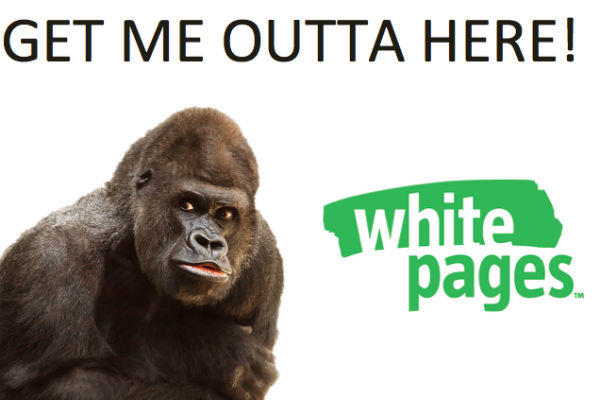 The sale of our personal data continues to be an increasingly lucrative business and simultaneously identity theft is growing rapidly. As such it has become even more important to remove our personal online information. Since directory sites prefer to hold onto our personal information in order to profit from it, they don't often make it easy to opt out. They also change the opt out steps and include safety mechanisms to stop others from doing it on your behalf. As such, this tutorial replaces my two previous tutorials although there is overlap.
10/31/2017 WHITEPAGES HAS CHANGED THE OPT OUT PROCESS AGAIN. THIS TUTORIAL IS NO LONGER CORRECT. See updated version below.
WhitePages gives you the option to edit, hide or remove your information. Make the decision that works best for you but my preference is to get rid of as much as possible, and to that end, this tutorial follows that approach.
Click here to go to WhitePages. (It will open in another window so you can toggle back and forth from this tutorial.)
Enter your name and state and begin your search by clicking on the green magnifying glass. (If you have a common name, enter your city and state too) Since I am no longer in whitepages, I will use random people in this tutorial.
A search will return a result in the format below:
Notice "Sponsored" results from sites that want you to buy their data. I point this out to show the importance of removing your information from multiple popular sites. (To avoid confusion, come back to this when you finish what you're doing with whitepages)
If you do not locate your information, vary the search parameters (former address, maiden names etc). If you still find nothing, either you previously opted out or there isn't any data on you. Regardless of the reason, if you can't find it, neither will anyone else. Congratulations! Your work is done and you need not go further.
If you do locate your information:
Click on "View Full Profile" – The screenshot below shows a sample profile for another Hayley Kaplan. (not me)
Then click "Claim/Edit."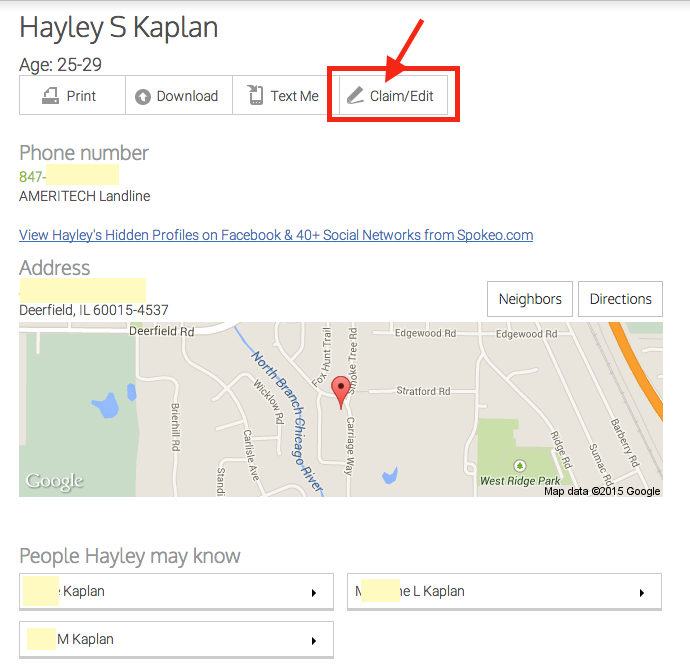 At this point, I strongly recommend that you click on Create a WhitePages Account instead of logging in via Facebook. After all, the point of opting out is to increase privacy, not reduce it.
Once you have created your account, you will be asked to verify your account. Do so.
Check your email and click on the link in the whitepages email that says, "Verify my email." That should take you to a screen that looks similar to the one below.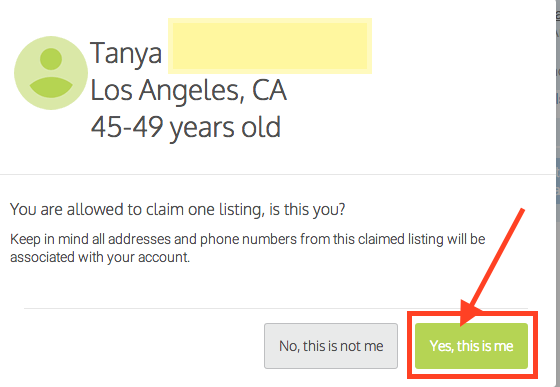 Click "Yes, this is me."
Next you will get a screen similar to the one below. Click on "Verify a Phone Number."
Whitepages has technical glitches that cause inconsistent behavior at this point. It's not uncommon to get an error message at this point. If this happens, log out of your account and then log back in.
Now you need to create a Caller ID profile which whitepages says is "to verify your information to help them ensure accuracy and prevent fraudulent changes to Whitepages information." Don't worry because you will eventually remove everything. Click on "Configure your Caller ID."
Enter the phone number that is already on whitepages and then select verification by "call" or "Text/SMS". I recommend selecting "call." (Why provide a cell phone to add to the data they gather on you, right?)

If you don't have a number listed, you'll need to provide one to proceed. Use any number that you can answer immediately – it will disappear with your other information when you're done.
When you click on the phone number, that phone will ring and you will be prompted to enter the number "1" to verify the phone number. Do so. (If you select the text option and provide your cell phone, you will get a text instead. Follow those directions)
You should get a message of success!
Click "Go to Accounts." You should see a screen like the one below.
If you get another error (one of these days whitepages will get it straight) log out and log back into your account and pickup where you left off.
Click "Remove me from the directory."
You will get the notification below.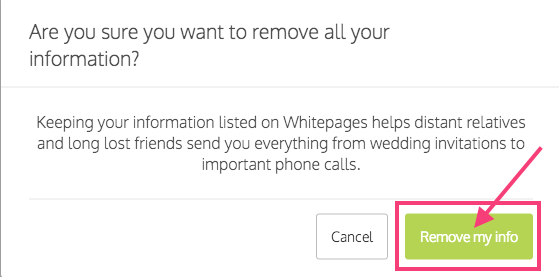 Click "Remove my info."
You should get the "Success" notification as pictured below:
Logout so you can search for your information to verify your information has been hidden. (I suggest searching from an "Incognito" window to be sure that your old data is not being recalled in "cache" from your prior results.)
If you have difficulties or questions, feel free to email me or to leave details or questions in a comment. I will follow up as soon as possible. Sharing your experience and concerns in a comment will also allow me to make updates to this article which may in turn help others. Like raising children, maintaining our privacy takes a village. Let's work towards leading safer and more private lives by helping each other along the way.
Until next time, … Stay Cyber Safe!
https://what-is-privacy.com/wp-content/uploads/2015/03/Whitepages-Revision.jpg
400
600
Hayley Kaplan
https://what-is-privacy.com/wp-content/uploads/2017/06/logonew.png
Hayley Kaplan
2015-03-20 14:05:58
2017-10-31 20:54:50
Opt Out of Whitepages - updated March 2015