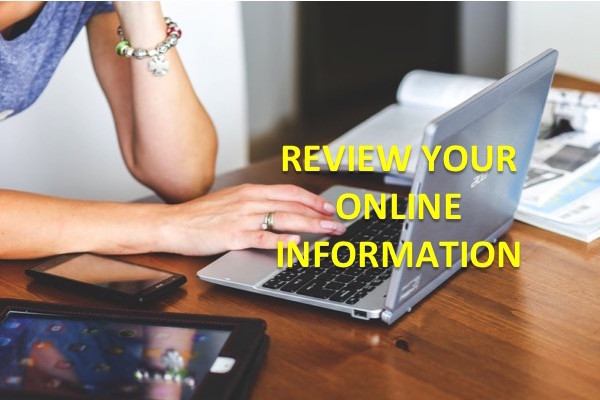 Whether you use social media and the Internet or not, you and your reputation can be damaged online. As such, even if you've intentionally avoided social media and the Internet for one reason or another, you should know if your own information or images appear in a way that could be harmful to you. The key is to use the Internet and social media wisely!
Consider the consequences before each post.
Use good privacy settings.
Set alerts to be notified when someone tags you in a photo or mentions your name.
Search for yourself online regularly (use advanced Google search and image search) to see what others will see. This will allow you to act on issues before you are irreparably harmed. (Search with safesearch off if you suspect any adult content.)
Online reputation danger comes in many forms. It can be as obvious as a maliciously posted pornographic image, as subtle as a negative business review or as innocent as a mischievous selfie or comment. There is danger in the type of information people post about other people and there is also danger in the posts some people make about themselves.
Online over-sharing becomes a problem when viewed by predators, identity thieves, potential employers and anyone else with an ulterior motive. Since review of online footprints is part of many application processes – rental, employee and school, for example – there are countless stories where a taboo post or a photo with a compromising image posted in fun has harmed a college, graduate school or employment candidate. Also, past actions such as being arrested for a DUI can appear in search results and these too can cause long term problems.
With cameras incorporated into devices such as phones, watches, glasses and even a contact lens, the general assumption should be that there is always a camera present and to therefore always act accordingly in the presence of others. Intentionally recording compromising, questionable or sexually explicit moments poses a future danger because not all people are thoughtful and kind and relationships change. For example, I recently helped a businessman who found a compromising photo of himself in his top search results after he severed his relationship with a problematic client who had taken the photo in the midst of off-the-clock bachelor party type activities with the client.
I was approached by a contractor who had his livelihood ruined by a bitter customer who voiced his displeasure in a variety of online forums, many years ago. One of these forums was a website dedicated to badmouthing this contractor's work. The damage from these "negative reviews" had not lessened with time and potential customers were repeatedly passing on his services as a result. There are several options to exercise in cases such as this. I will reference the strategies that could be applied to his situation throughout this article in orange.
A business or individual usually cannot "delete" a website or reviews made by others, however, reviews that don't meet guidelines on a review site may result in the site removing the review. (A negative Yelp review I gave a business was removed because I used a first and a last name and that's against Yelp guidelines.) Since successful removal of reviews is rare, time is better allocated to responding to reviews.
How to handle a negative online review:
Use a negative review as an opportunity to gain more customers by responding appropriately and professionally because your audience extends beyond the customer you are responding to.
Follow up a negative review with excellent customer service so the customer voluntarily edits or deletes the negative review. If you don't know who wrote the review, publicly invite that person to reach out to you so you can rectify the situation.
Always be professional and polite and refrain from responding defensively or from turning any online forum (review, discussion, social media post) into a battlefield.
Maximize success by offering a sincere apology and a promise to do better.
There was no option to respond to the contractor's bad review on the site dedicated to badmouthing him, but there was an option to respond appropriately on some of the other review sites.
How do deal with a problematic post when you can't (or should not) respond online:
Ask the person who posted the content to remove it!

If you know who posted the harmful content and there is no option to respond online or the situation does not call for a response (posting of a naked or drunken photo, for example), humbly ask the person who made the post to remove it for the best and fastest result.
The man who created a website and posted awful reviews for the contractor whose business had been severely impacted refused to respond when contacted via email, phone or social media so the contractor needed another option.
Use an attorney:

If laws are broken, an attorney can compel an individual to remove information or a host to suspend a website.
An attorney can provide Google and other search engines with a legal reason to stop them from indexing certain search results.
An attorney can be an important resource in some situations but review removal is usually not one of them.
Attorney fees ran high for the contractor but since no laws were broken, the attorney did not resolve the problem.
Have Google and other search engines remove inappropriate content

In June of 2015, Google provided an option to remove "Revenge Porn" because of the serious damage to victims of this growing crime.
For inappropriate adult material or content that breaks laws, a request can be made to remove the information from search results on your own (do an online search for unique directions for each search engine), with an attorney or with my help.
Request suspension of a website

Rules will vary from host to host but a host can suspend an account if it meets certain criteria. Use a "Whois Directory" to determine who the host is.
Create ample positive online content to reduce the importance of negative information and to push it lower down in search results.

It's a lot of work creating appropriate content but a trustworthy reputation company can facilitate this long-term fix – most likely with a hefty price tag.
Not all reputation companies are good so do research before hiring one.
This was the option the contractor ultimately pursued with the understanding that it would take many months to accomplish.
We have to function in a world filled with dangers and the point of this article is not to scare you senseless but to arm you with the knowledge that things can be done to rectify a situation once one becomes informed of an online predicament. It may not be a quick or easy fix, but with common sense, education and many other resources at your disposal, you can prevail.
Until next time, … Stay Cyber Safe!
https://what-is-privacy.com/wp-content/uploads/2016/06/REview-Your-Online-Info.jpg
400
600
Hayley Kaplan
https://what-is-privacy.com/wp-content/uploads/2017/06/logonew.png
Hayley Kaplan
2016-06-28 20:36:14
2017-08-03 10:31:47
Preserve and repair your online reputation and presence