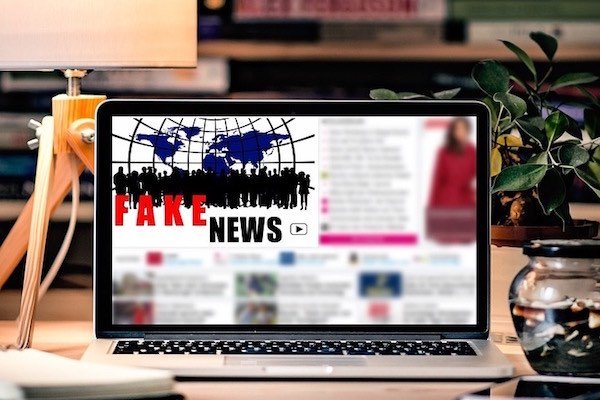 A shortcoming of the Internet is the abundance of misinformation that coexists alongside helpful and accurate information. What makes matters worse is that in a matter of seconds, misinformation can spread exponentially through social media. Other issues include the reporting of faulty or inaccurate data and the emotional and physical harm that sometimes results from the application of inaccurate health-related information. And if these aren't enough, there is also the problem of exposing ourselves to identity theft and hacking when we click on malicious links or end up on malicious websites in disguise as I did when I mindlessly clicked on a link in a malicious social media post that I mistakenly thought was real news.
Today's post will focus on misleading or false information in the form of online news. While this article pertains primarily to problematic online news, some of the suggestions can be applied to broadcast and printed news too.
Fake and misleading news
According to an article by BuzzFeed News, (Here Are 50 Of The Biggest Fake News Hits on Facebook From 2016) overall, fake news about US politics accounted for 10.6 million of the 21.5 million total shares, reactions, and comments in 2016. After US politics, hoaxes about shocking or ridiculous crimes were the second biggest category of fake news and these accounted for 34% of total Facebook engagement for the top 50 fake news articles. Politics hoaxes generated 49% of the total engagement. While this analysis is powerful, it is worth noting that the numbers don't tell us about those who intended to share "fake news" as satire vs. sharing real news.
In spite of the abundance of political fake news, a recent study concluded that fake stories did not impact the outcome of the controversial 2016 Presidential election. That said, there is no denying the large number of people who accept political online misinformation as facts and then share it to influence others. As one attention-grabbing headline after another riled up my emotions during the election process, I probably shared a fake story or two along the way myself. But that was then, and this is now!
These days I digest my news differently. When something catches my attention, I first evaluate the source with respect to the website and the credentials of the author. If these seem legitimate, I read on and may want to share when I'm done. But before sharing, I think about what my share will convey to my diverse group of social media contacts and I also consider how this share will reflect on me professionally. It turns out that the majority of what I read online no longer makes the cut to be shared. Instead I end up sharing clips of adorable animals and kids because who couldn't use a smile in their day?
While some sites and news posts are simple to classify as "fake news" occasionally real news is includes the reporting of inaccurate and unverified data and statistics. This form of fake news will be discussed in another article, but the important takeaway is that we shouldn't mindlessly accept all we see and hear, even from trusted news sources.
General tips for identifying fake and problematic online news:
Analyze the URL to see if there is something unexpected in it. For example, if there is a .co after the name of a site that you know as a real site, it may signal a problem. i.e. "abcnews.com.co" is not real news and it published the fake news post that was shared the most in 2016.
Watch out for news that gets your attention with headlines that elicit frustration and annoyance. Real news should be reported in a neutral manner.
Be suspicious if you don't recognize the source of the "news" and you are not seeing this same news on popular news sites.
Know that fully capitalized words, multiple exclamation points and bad punctuation or grammar are not used in professionally written news.
When information does not sit right with you, verify it on fact-checking sites that are written in a neutral tone and that provide non-biased sources to back up their claims. Suggestions include:
See fact checking Trump's Feb 28th, 2017 Address to Congress.
Determine which news sources you trust and get your online news directly from them.
Craig Newmark, the founder of Craigslist and Craigconnects is passionate about independent investigative reporting and a trustworthy press. To that end, The Craig Newmark Foundation donated $1 million to Propublica, an independent, nonprofit newsroom that produces investigative journalism in the public interest (March 2017) and $1 million to the Poynter Institute for Media Studies to support a five-year journalism ethics program focused on verification, fact-checking and accountability in journalism. (December 2016)
Know which stories are intended as satire in spite of a tone or writing style that emulates real news.
Consider noting the news is not real when you share satirical pieces. There are clever and entertaining ways to introduce satirical news to avoid misleading people who aren't good at telling the difference.
For a comprehensive list of sites that were determined to be a problematic source of real news, see False, Misleading, Clickbait-y, and/or Satirical "News" Sources, by Melissa Zimdars, an Assistant Professor of Communication & Media who compiled this list with additional guidelines as a resource for her Journalism students.
Today someone shared a crazy Donald Trump tweet on Facebook that I assumed was fake. So I went directly to Donald Trump's Twitter posts and was surprised to see it was real. So therein lies the continued problem we face. People do, say and post the craziest things and sometimes it's really hard to know what's fact and what's fiction.
Until next time,… Stay Cyber Safe!
https://what-is-privacy.com/wp-content/uploads/2017/03/Fake-News-copy.jpg
400
600
Hayley Kaplan
https://what-is-privacy.com/wp-content/uploads/2017/06/logonew.png
Hayley Kaplan
2017-03-04 15:52:20
2017-08-03 10:37:36
How to identify fake news online