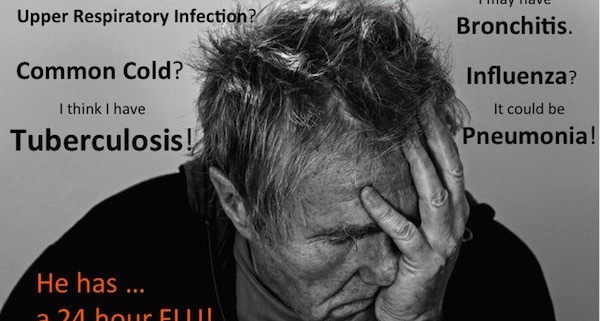 Online medical or health-related information is beneficial when correctly interpreted and carefully used with common sense, but on the flip side, misinformation, misinterpretation or misuse can lead to serious physical and/or emotional harm. The growing problem associated with excessive online patient research has even led to a new medical condition called Cyberchondria, the unfounded escalation of concerns about common symptoms based on review of online literature and search results. Cyberchondria can lead to a high state of medical anxiety but there are worse consequences too.
The danger of non-health professionals using the Internet for self-diagnosis or to diagnose others
Cyberchondriacs often delay care which can be more harmful than the value of information obtained.
You could miss something important.
You may conclude there is more wrong than actually is wrong and this leads to unnecessary stress and an additional set of problems.
You may take steps to cure an incorrect diagnosis which could allow the underlying problem to worsen or to exacerbate and/or lengthen the symptoms.
You may ignore something important if you are in denial about your symptoms.
If you address some symptoms of your problem but ignore others, you could be missing the main source of the problem. In turn, the main problem can become more serious if it remains undiagnosed.
When self-diagnosing psychological issues, you can miss an underlying physiological problem that results in psychological symptoms.
The advantages of combining online research with a qualified health professional consultation
Combining your own research with the input of a doctor enables you to take advantage of the different available options rather than being limited to one or the other.
A doctor can confirm or disprove what you find online with an examination and/or tests and then set you on an appropriate path to alleviate the problem or the symptoms.
If your online diagnosis is correct, a doctor can provide a plan to reduce or remove symptoms and can also help with the challenges related to chronic conditions.
If a frightening online diagnosis is wrong, a patient will benefit from the huge stress relief of knowing their diagnosis was wrong. Then a correct diagnosis can be made by the doctor with a plan to alleviate the problem and symptoms.
If an incorrect diagnosis is less serious than the actual problem, a doctor's intervention can be critical to deal with the true problem in a manner that won't worsen it.
What to know before you research online health information
Look for the credentials of the source to be certain the author is an appropriate (licensed) health professional. (Doctor, nurse, psychiatrist, psychologist, etc.)
Watch out for conflicts of interest. (A sponsored page will have bias towards its own products and services.)
Make sure the information is current (less than 3 years old) as things change in medicine.
Read through symptom lists completely without skipping anything. If many don't apply to you, you likely don't have what you're reading about.
According to the U.S. Food and Drug Administration, it's best to work with:

Sites ending with ".gov," (Sponsored by federal government)
Sites ending with ".edu," (Run by medical schools or universities)
Sites ending with ".org," (Maintained by not-for-profit organizations)
Scientific journals or medical journals

Recent regulation allows internet service providers to sell browsing habits to third parties. Consider using a Virtual Private Network (VPN) or a browser that doesn't track you if you want your browsing history to remain private.
Trustworthy sites for reliable online health information
MedlinePlus (.gov)
Sponsored by the National Institutes of Health and managed by the U.S. National Library of Medicine.
Information on more than 900 diseases and conditions in the "Health Topics" section and links to other trusted resources.
Includes a directory of hospitals, clinics and healthcare providers, a medical encyclopedia and medical dictionary, tutorials on common conditions, tests, and treatments, extensive information on prescription drugs, supplements and herbs, and links to thousands of clinical trials.
Has a section for seniors needing easy access to age-related health information.
Mayo Clinic (.org)
Produced by more than 3,300 physicians, scientists and researchers from Mayo Clinic
Information on hundreds of diseases and conditions, drugs and supplements, tests and procedures.
Offers a "Symptom Checker" tool and "First-Aid Guide" and videos and links to additional resources.
Centers for Disease Control and Prevention (CDC) (.gov)
Reliable health information pertaining to:
Data and Statistics
Diseases and Conditions
Emergencies and Disasters
Environmental Health
Healthy Living
Injury, Violence and Safety
Travelers' Health
Workplace Safety and Health
A collaboration by more than 6,300 world-renowned physician authors, editors, and peer reviewers that synthesizes the most recent medical information into trusted, evidence-based recommendations that are proven to improve patient care, quality, and outcomes.
Evidence-based, physician-authored clinical decision support resource used by clinicians to make point-of-care decisions.
If you are not a clinician, please exercise extreme caution and do not make important decisions without the guidance of a qualified health professional.
Johns Hopkins Medicine Health Library (.org)
A guide to the diagnosis, treatment and prevention of conditions from A to Z
WebMD (This is the least preferred of the options listed here)
Exercise caution with information you get from ads in the form of an article. "Health solutions by our sponsors" may offer legitimate and helpful solutions but sponsors will have a bias towards the products or services they profit from.
Important things to keep in mind after your online research
After your online research, do not assume the worst but don't ignore what's going on either. In most cases there is likely a simple, non-life threatening explanation. When you have concerns, take action as soon as possible. Worrying yourself about what you found online is unhelpful and can make matters worse but scheduling an appointment with a doctor to discuss what you've found is helpful and intelligent. Lastly, all doctors are not equal and most doctors are not right 100% of the time. If you have reason to doubt a doctor's diagnosis, explain this to the doctor so that the doctor can discuss your concerns with you and in turn, you can decide what to do after that. If you remain dissatisfied, a second opinion from another health professional is warranted. You are your most important advocate.
Until next time,… Stay Cyber Safe!
https://what-is-privacy.com/wp-content/uploads/2017/04/Cyberchondria-1.jpg
400
600
Hayley Kaplan
https://what-is-privacy.com/wp-content/uploads/2017/06/logonew.png
Hayley Kaplan
2017-04-06 11:48:48
2017-08-03 10:25:03
How to use online health related information wisely