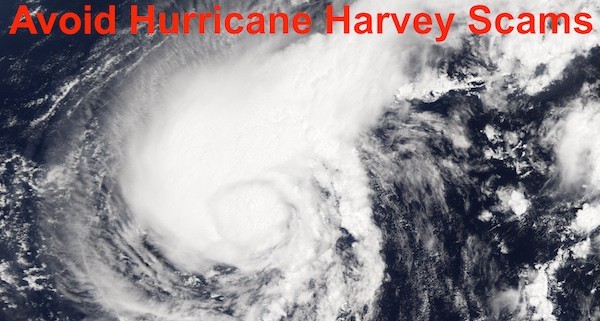 Disasters have a way of bringing out both the best and the worst in people and Hurricane Harvey is no exception. While decent people are rescuing people and animals, driving to Texas with their boats, sending all sorts of needed supplies and making donations, scammers are out in full force taking as much advantage of the situation as possible. Amidst the tragedy, criminals and scammers are price gouging, sending out phishing emails, creating charity and crowdfunding scams and fraudsters are setting up websites that look similar to legitimate charities. (for example, most legitimate organizations end in .org and not .com) Needs are high but as long as you want to help, please be careful and be sure to participate with legitimate relief causes.
Some reputable and trustworthy organizations to donate to:
Hurricane Harvey Relief Fund – established by Texas Mayor Sylvester Turner and housed at the Greater Houston Community Foundation, a 501(c)(3) public charity.
American Red Cross – this link is specifically for Hurricane Harvey Relief.
Emergency Operations Center (In Texas) – For those people who are able to physically drop off supplies, please see what is needed and what is not acceptable below:
Food: Unexpired, non-perishable and easy-to-make
Water: Bottled water with the safety seal intact
Children's Supplies: Diapers, wipes, bottles, formula, diaper rash cream (in their original, unopened packaging) and cribs, playpens, car seats (new or gently used condition), and toys.
Clothing: New or gently used, and seasonally-appropriate. (e.g. shirts, pants, socks, shoes.) Only new undergarments will be accepted.
Equipment: Items that can be used to assist in the emergency response and immediate relief phase – such as power tools, ladders, chainsaws, fans, etc.
Supplies: Cleaning supplies (e.g. bleach, sponges, mops, N95 filtration masks, gloves, buckets,) chairs, and tables
Materials: Building materials (e.g. sheetrock, plywood, and lumber)
Toys: Only new or clean, gently-used toys will be accepted (e.g. books, board games, battery-operated games)
Furniture: Only furniture in clean and usable condition
Bedding: New bedding (sheets, pillows, comforters, etc.) in unopened packages are preferred
Houston SPCA – animals need help too.
Houston Humane Society – click on link for Hurricane Harvey.
Texas Diaper Bank – Accepting the following items:
Baby diapers, pull-ups, adult diapers, formula, and wipes. (They primarily need larger sizes of diapers, pull-ups and adult diapers too. No cloth diapers due to inability to wash them.)
New or gently used baby items – Clothes, blankets, bottles, breast pumps, small toys.
United Way Relief Fund – United Way's first priority will be safety, shelter and basic needs, like food. Once the community is stabilized, United Way will focus on long-term recovery efforts.
How to identify a charity scam and verify the legitimacy of a charity:
Charity Navigator – this site is a wealth of information and it provides abundant tips for donors.
FTC Consumer Information – the FTC provides signs of a charity scam and also has a handy charity checklist.
Thank you for caring enough to read this and more importantly, for helping. It takes a village and with all the cruelty and unkindness going on in the USA right now, it's inspiring and wonderful to see the better side of people.
Until next time … Stay Cyber Safe!
https://what-is-privacy.com/wp-content/uploads/2017/08/harvey_tmo_04aug05_250m.jpg
400
600
Hayley Kaplan
https://what-is-privacy.com/wp-content/uploads/2017/06/logonew.png
Hayley Kaplan
2017-08-31 12:30:04
2018-01-10 09:02:41
Avoid scammers when making donations