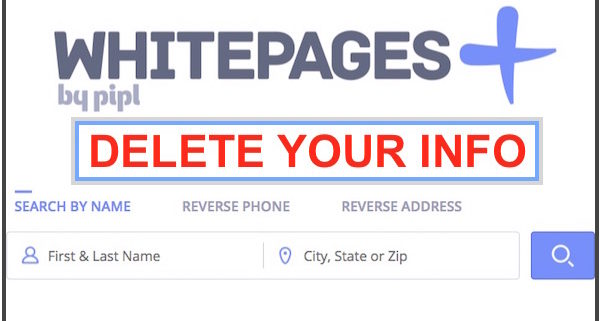 Whitepages Plus by Pipl (formerly known as 10Digits) is a directory that provides names, addresses and phone numbers. This site is connected to a people search engine called Pipl that gathers and provides an abundance of personal information that it picks up from other broker directories. You can opt out of Whitepages Plus but you cannot opt out of Pipl directly. To remove information from Pipl, you need to remove yourself from all the sites it picks up data from and then over time, your data will fall out of Pipl. Pipl is a useful tool for obtaining extensive information about others but be sure to look yourself up on that site to know what information others have access to about you on that site.
How to delete your information from Whitepages Plus:
Please toggle back and forth from my article in your browser to whitepages+ so you can follow these directions step-by-step.
Enter your name in the search box and press enter after you click here to begin the search to find your information. There is no need to list your location unless you have a common name that brings back a huge volume of options.
Click on your record and then copy the full URL address from the search bar. See directions for copying the address in the image below. (If you have multiple records, do one at a time by going back to step 1 for each one.)
Preview what you'll need to do in Step 4 and then click here to get to the opt out screen. (pictured below)
Enter your email address and then paste the URL you copied in step 4 in the "Page address" box.

A third box will pop up asking for your photo ID.
Attach a scan of your ID after you block out your photo, signature and ID number.
Press "SUBMIT."

Open the email you will receive from whitepages+. Click on the link in the email to receive the message below:


Removal in Progress
Your removal request was received and is now being processed. This may take a few days.
Thanks for your patience!

Removals usually happen within 24 hours but don't be alarmed if it takes a longer. Once you get a confirmation email telling you your information has been removed you should verify it's gone by going back to Step 1 to look yourself up. If your information is still there, it's likely an additional record with your information (could be an old address) or you didn't do something correctly. Repeat all steps or contact whitepages+ for help. That said, this site usually processes removals promptly and correctly.
If you have more records to remove, go back to Step 1 for each one.
Please be aware that broker directory sites make constant changes to their appearance and their opt out procedures and options. If you have questions or notice something inaccurate in a tutorial, please let me know and I'll revise it accordingly. For step-by-step tutorials to remove yourself from other sites, click on this link to take control of your own online privacy.
Until next time, Stay Cyber Safe!
https://what-is-privacy.com/wp-content/uploads/2017/11/OPT-OUT-OF-whitepages-.jpg
400
600
Hayley Kaplan
https://what-is-privacy.com/wp-content/uploads/2017/06/logonew.png
Hayley Kaplan
2017-11-07 17:29:41
2017-11-08 12:13:29
Opt out of whitepages.plus by Pipl