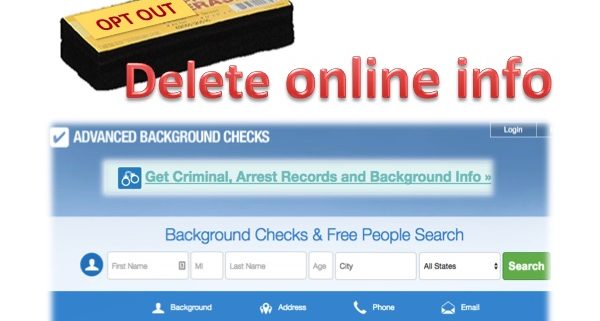 You may be surprised by the large amount of detailed information you can find about yourself (and others) on a broker directory site called AdvancedBackgroundChecks. In an instant you can view present and past contact information including telephone numbers, email addresses, home and work addresses, age, family member names, aliases, and more. And, access to this information is completely free. Clicking on links within this data will lead you to additional directory sites where detailed background reports including criminal histories can be purchased for a fee. I'd like to tell you that these reports are expensive enough to make it less accessible to the masses but that is not true! While we deem the value of our personal data to be high, the cost for most of these reports is low and likely affordable to many of those who want the information.
Unlike most data broker sites, AdvancedBackgroundChecks does not require a name or email address to remove information. Instead, your IP address is used to limit the number of removals you can complete. Using a VPN to mask your IP address can provide a workaround however you may find yourself blocked from the site after your first removal. Be sure to read this tutorial completely before beginning your removal(s), or, toggle back and forth from this tutorial to your opt out to take advantage of helpful hints along the way. All clickable links will open up in a new window to allow toggling back and forth.
How to Delete your information from AdvancedBackgroundChecks:
To find and immediately remove your personal data on AdvancedBackgroundChecks, click here and enter your name and state followed by clicking on the "Find My Listing" button.

If you get too many irrelevant results, narrow down your search by adding the city.
If you locate more than one relevant result, repeat the process for each result. Limits may apply.

Select the listing you want to remove by clicking the "This is Me" button.
Set your privacy preferences by clicking "Opt out my info."
Complete the security check captcha code, check the 2 boxes agreeing to their terms and conditions, then click "Continue."
Repeat all 5 steps for each record you want to remove.

Search for multiple aliases and multiple spellings and misspellings of your name to locate and remove all results that contain your personal data.
Since removals come with limits, you can search for your information without removing it by clicking here.
You may use the United States Postal Service to mail in a single request to the site for removal of all your records at once. To download the form, click here.
Removing yourself from AdvancedBackgroundChecks is quick and easy however, your information will remain on other sites until you remove it from those sites. Click here for a list of additional free removal tutorials and thank you for joining the fight for personal privacy!
Until next time,… Stay Cyber Safe.
https://what-is-privacy.com/wp-content/uploads/2018/01/AdvancedBackgroundCheck-Opt-Out.jpg
400
600
Hayley Kaplan
https://what-is-privacy.com/wp-content/uploads/2017/06/logonew.png
Hayley Kaplan
2018-01-09 19:42:42
2018-01-10 08:10:45
5 Steps to Opt Out of AdvancedBackgroundChecks